Do you have jewellery that you have memories of but can no longer use?
We can redesign and remodel your precious jewellery.
The gem and metal can be reused.
Design consultations, various consultations,
and quotations are free of charge.
Please feel free to contact us.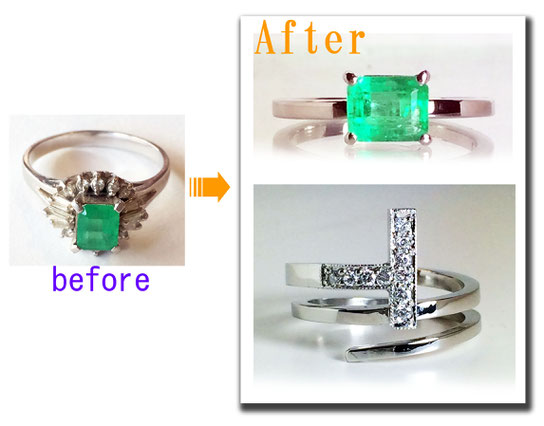 ---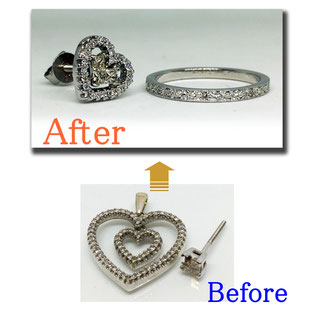 Redesign a broken pendant and a pierced earring with one stone missing.
When I put the repaired pierced earrings in the heart inside the pendant, it fits perfectly.
The pierced earrings are screw type.
I removed all the outer heart stones and used the rest of the metal to make a pinky ring.
It is a full eternity ring with diamonds sets all around.
---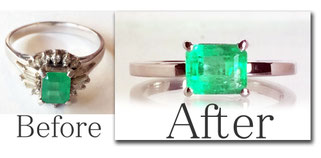 Platinum Ring with Emerald & Diamond
The stone setting was re-used as it was.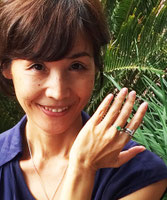 「customers voice」
ベルベットの小箱を開けた瞬間、祖母が目の前にいるような気持になって胸が一杯に。。
今回のリフォーム、自分のルーツを思い出して感謝があふれてきて、エモーショナルな体験でした。シンプルだから日常にも活躍してくれそうで楽しみ❤
===========
満足度120%、はめてみると言葉で言い表せないしっくり感。
祖母が身に着けていたダイヤモンドとプラチナの輝きに、自分の意思が宿った感じで、受け継ぐものと生み出していくもの。2つの大切さをしみじみと感じます。「少しづつ輪を細くしてほしい」「気持ち斜めにして螺旋ぽっくしてほしい」などやありづらかったであろう私の要望を見事に形にしてくださったジュエラーTAKAさん本当に有難うございました!
The link below is the customer's blog. 
---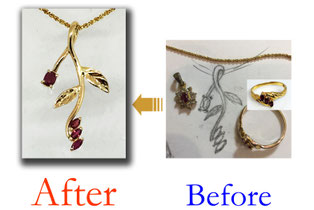 It was a request that was completely left to us. The pendant settings and surrounding stones could not be reused. It was completed by adding the shortage to the 18K gold of the ring. 
---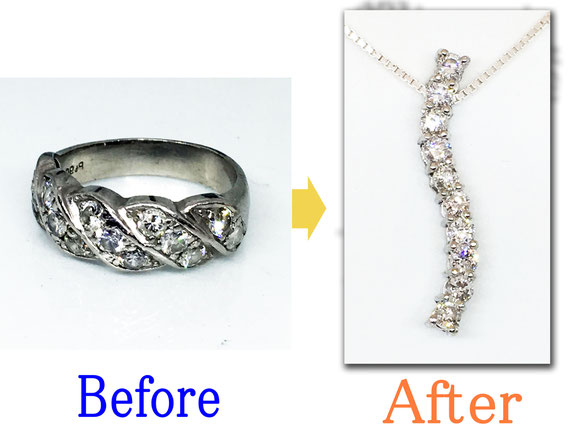 Platinum Ring with Diamond
Recycle and remake the materials that customers have
It became Sweet ten diamond pendant.
---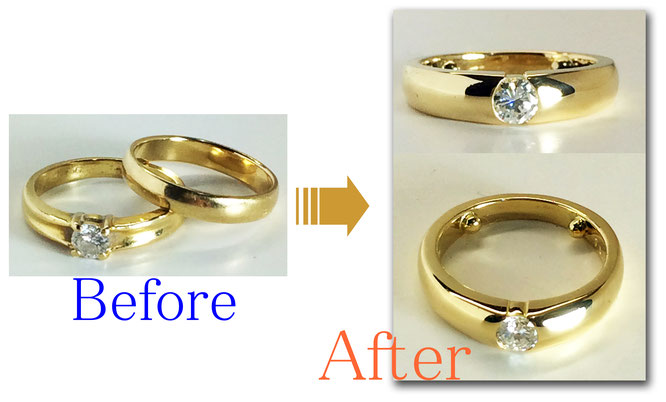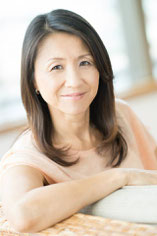 「customers voice」
夫の死後3年後に結婚指輪を外す決心をして、ジュエリーボックスにただ眠っていた指輪達。少しずついらないものを処分していく中で、当然処分できないものの一つになりました。そんな時にマーフィー恵子さんのブログ記事を読んで、ピンときた私はすぐにフォームに入力し、ジュエラーたかさんにリングのリフォームをお願いしました。
リフォームを思いついたものの、どうしたいのか見えていない状況でしたが、リングをあまりつけない理由や、ネックレスもピンとこないというお話をしていたら、リングの内側に球状の爪をつけて回ってしまう問題を回避できるとのこと、そして、あ〜こんなシンプルなデザインだったら、毎日つけていられるなと思うサンプル写真を見て、2つのリングを1つにしていただくことになりました。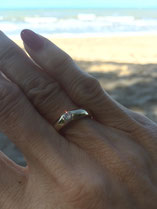 夫は指輪とか、結婚式にこだわらない人で、指輪もなし、結婚式もハネムーンもなし、の結婚生活でしたが、私はね、一応リングをはめたくて自分のお小遣いで買った記憶があります(笑)だから特にこのリングたちに想い出があるというほどでもなかったのですが、17年一緒に生活した大切な指輪です。
 それが今回、こんな素敵な1つのリングになって帰ってきてくれました。ダイアモンドもピッカピカに輝き、美しいゴールドの光。
リングを見る前に受けた、恵子さんの生命の樹のセッションでも、統合という言葉が何度も出てきて、なんだかこのケアンズの土地で、改めて私自身が統合し、亡夫とも次のレベルで統合できたのかな?なんて感じて、胸がいっぱい、涙もいっぱいになってしまいました。夫が違う次元からこの次元へサポートに還ってきてくれた感覚です。感動(涙)
---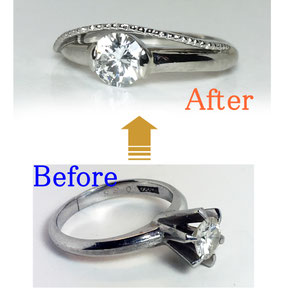 Customer was very pleased that she could finally wear it by changing the ring that she couldn't wear for a long time to a modern design.
「customers voice」
出来上がりを見て、興奮してしまいました。めっちゃ嬉しいです!
Miyuki Yogo様
---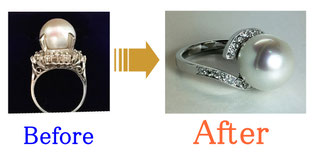 Customer want to wear it but design is classical and cannot be worn.
It was reborn as a modern design
---
---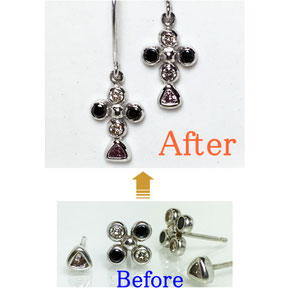 Customer has 2 pairs of earrings.
She said. When I bought this, I  wanted a cross design. So,
In that case, I proposed to connect the two to make a cross, and it became this shape.
---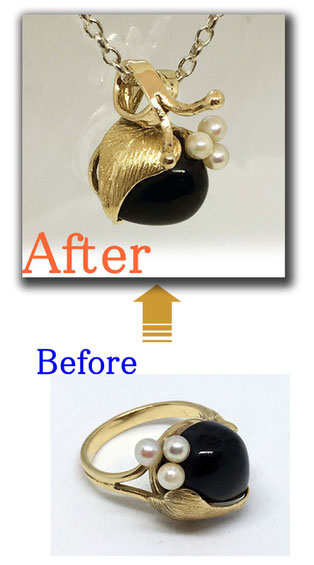 This is a remodeling of a black coral ring that a customer bought in Hawaii a long time ago.
It was a very nice design, so when I was looking at something that could be made to take advantage of this design, it looked vaguely like a snail shell.
It became a unique handmade work.
It is a collaboration work with a Hawaiian craftsman
---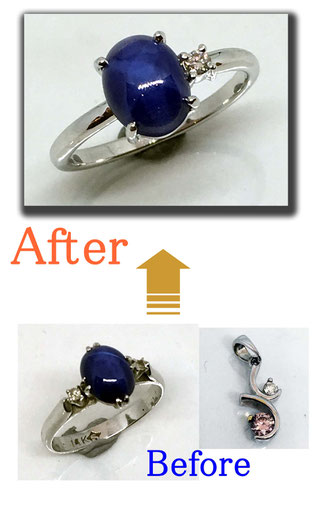 Simplify the design and replace the side diamonds from the pendant, the pink diamonds are on hold for the next remodeling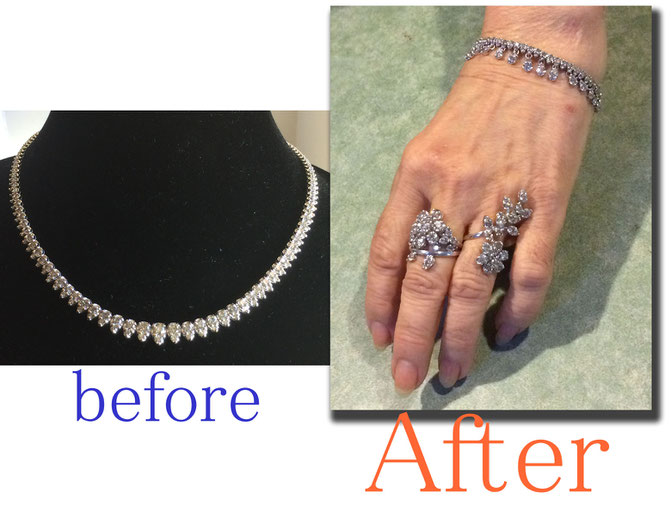 ---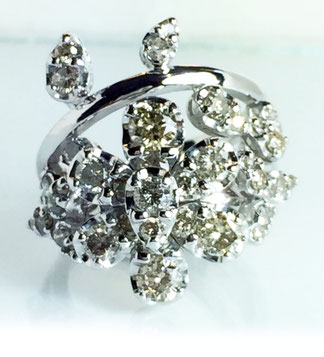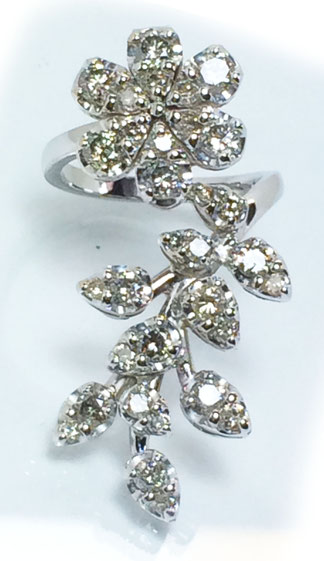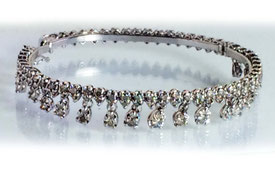 She came from Japan because she always wanted to ask for a remodelling of a diamond necklace that she no longer uses since she found [Jewellery Taka] a few years ago
---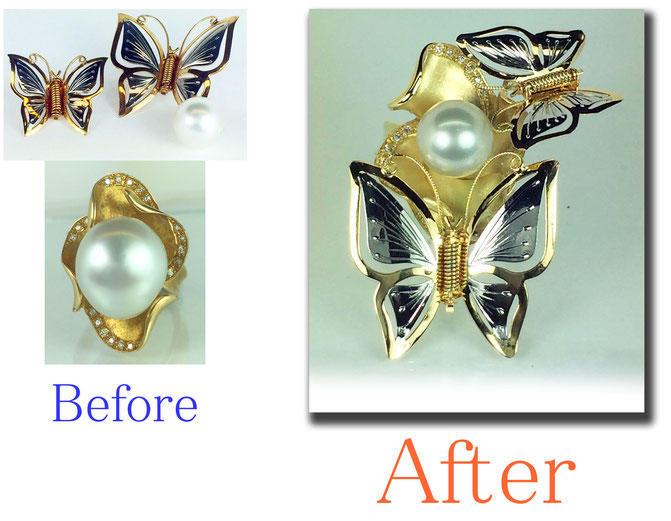 The customer came to the store to reform the pearl ring, but I thought that the shape could not be used as it is because it is a nice ring, so the ring was left as it was (although I changed the shape a little), the pearl was replaced, and the butterfly approached it.
---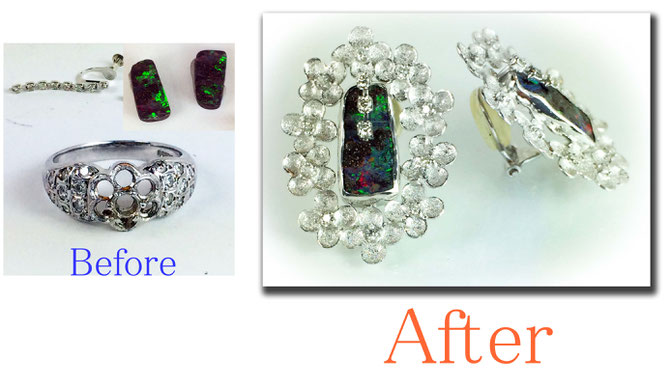 Make 20 flowers. .. .. Set the melee diamond to the center of the flower.
Attach it around the opal in a well-balanced. It's a lot of work. It was finished nicely and the customers were pleased.
---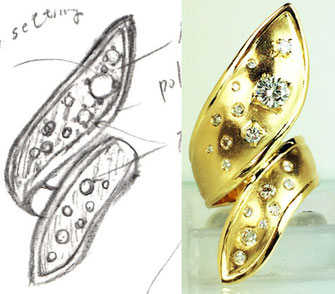 I reformed all the jewelry that customers no longer use into one ring.
Customers had diamonds of various sizes, so the ring had a unique and dynamic design.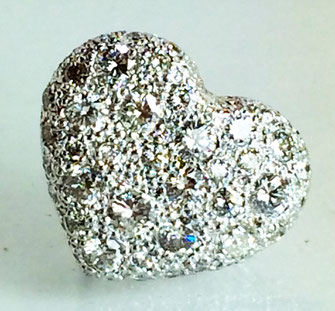 Diamonds from a variety of jewelry.
All together, a pavé setting on a 2.2 cm heart pendant.
Diamonds are set not only on the surface but also on the sides of the solid. It takes time, but it's cute.
---

I reformed the fairly thick platinum ring that the groom had into a wedding ring.
The result is a nice ring that is simple and has movement.
---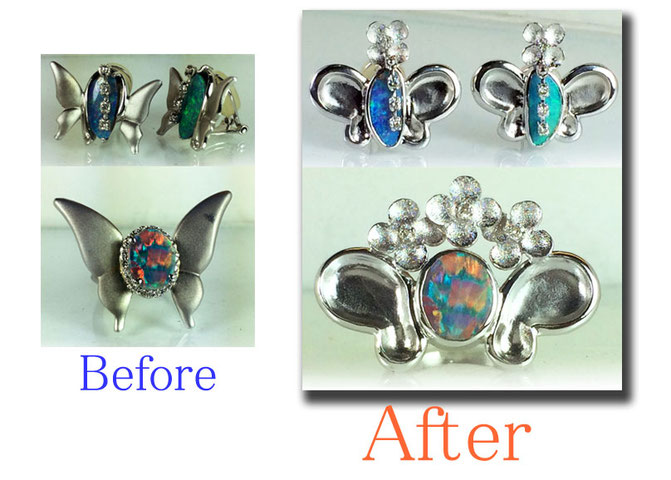 The customer's butterfly jewelry is an order to change the shape and make it a little bigger. It is a very beautiful black opal.
I haven't had a chance to make jewelry with such a unique design, so I enjoyed making it.
---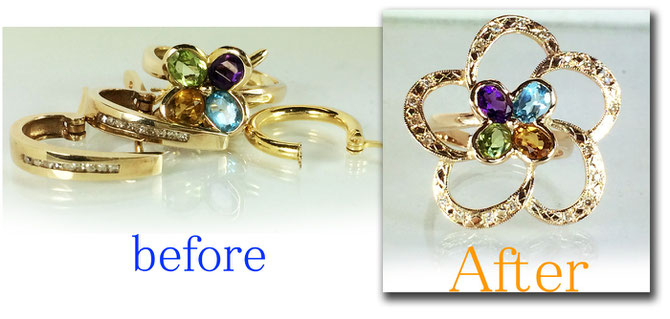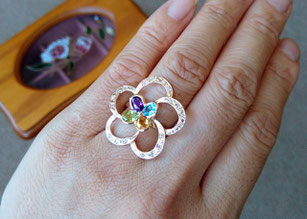 customer's voice
今年ののクリスマスパーティでは確実に大活躍しそうな、貴重な一点ものとなりました。希望通りの華やかさがあり、ケアンズに合うカラフル感がとっても気にいっています。お揃いのネックレスも欲しくなってきました。ありがとうございました。 陽子マクファーラン
---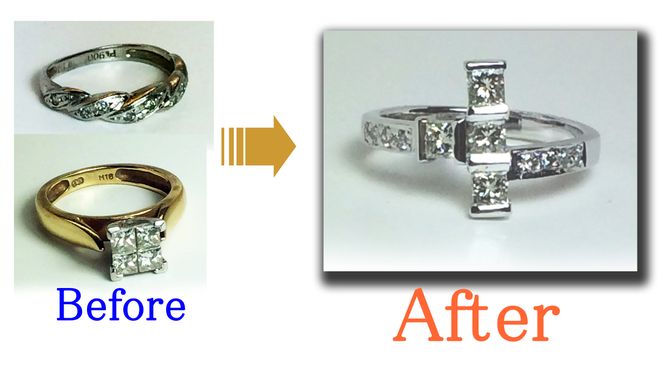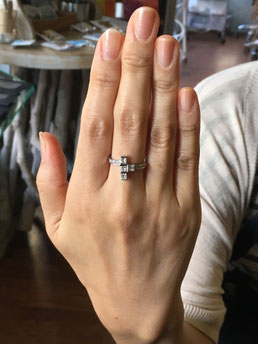 Princess cut (square) and round cut dialing remake.
It is a unique design.
---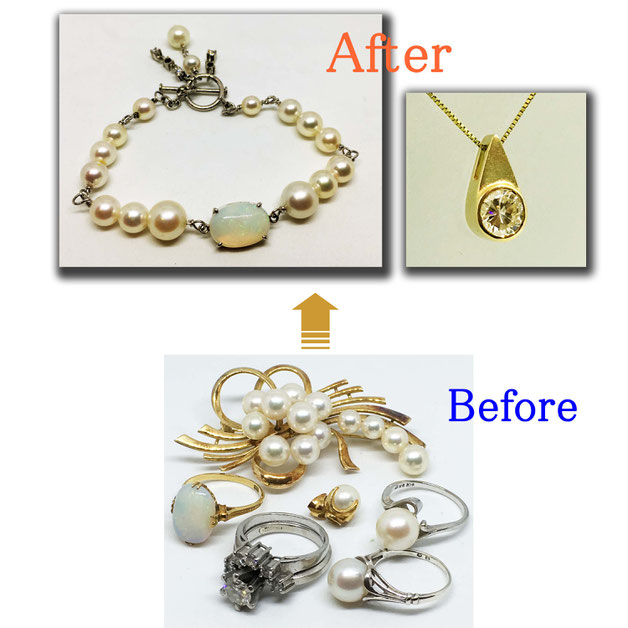 The customer requested to reform using all of these, pearls, opals, and diamonds. It has been reborn as a unique piece of jewellery.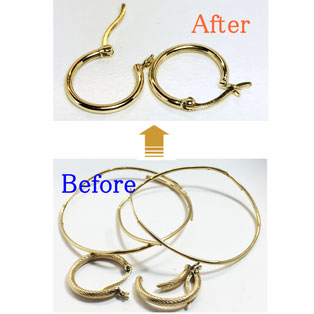 Many ready-made hoop earrings are hollow, so they can easily bend or break with a little force.
All melted into solid hoop earrings.
---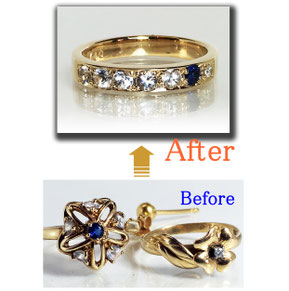 When remaking jewellery, stones and materials are limited.
What kind of design can be made with limited materials?
While talking to our customers, we are heading in more and more interesting directions.
And it will always be reborn as a wonderful piece of jewelry.
This time too, it became a simple and unique ring.
---
Design consultations, various consultations,
and quotations are free of charge.
Please feel free to contact us.
---
How to order
We will guide you through the process from inquiring to handing over.
If you are thinking of making to order or remake, please feel free to contact us by phone or email. Estimate and design fee are free
If you live near Cairns, please come to the workshop
Tuesday-Saturday 10: 00-17: 00
Shop 11 village lane 20 lake st cairns QLD 4870 "POUCH"
We also accept inquiries from other states, overseas, and distant places.
Phone: 0431-273-559
Email: cairns@jewellerytaka.com Click here for email form
First, we will ask you about the type of jewelry you request, the design and image, etc.
Don't worry if you don't have an image at all.
Please answer some questions and I will make a suggestion.
For example
☑ What do you want to make, such as rings, pendants, and earrings?
☑ What kind of scene is it used for everyday use, parties, etc.
☑ How big do you like?
☑ What kind of image do you like for your design, such as simple, flowing, elegant, and solid with a strong presence?
☑ What kind of stones do you like? etc 
We will answer some of these questions and work on them little by little. Customers who did not have an image at all when they first consulted will gradually develop an image as they answer.
At this stage, we may exchange many times, but you can request it free of charge.
It is also possible to bring a copy of the design that is close to the image.
Based on the customer's request, we will propose one to several rough designs and photos for free, and then gradually work out the designs from there.
For pet jewelry, please send photos of your pet from various angles.
Once the material and design are decided, we will give you a quote.
❹  Application, half price payment
If you are satisfied with the content of the proposal and the quotation,
Please apply formally. Please pay half of the estimated amount
We will start production.
We manufacture jewelry in our own workshop. The number of production days varies depending on the design, but we will respond flexibly to consultations on delivery dates, so please let us know your wishes.
The production period is usually about 1 to 3 weeks.
❻  Hand over and pay the balance
When it's completed, Please pay the balance. It will hand it over after that.
If you would like to send it, we will send you a photo of the finished jewelry by email. If you are satisfied, we will ship after paying the balance.
If the stone comes off or loosens within one year after delivery, we will reset the stone for free. If you lose stones or parts, you may be charged.
The warranty does not cover lost stone , scratches, etc. caused by hitting or bending jewelry. Please be assured that the stone may fall if you hit it without noticing it. We will prepare alternatives at a lower price than usual.
If you are concerned about dirt on custom-made jewelry or remake jewelry produced by Jewellery Taka, please bring it to the workshop at any time. We will do the cleaning free of charge. We will also check the stones, so please come regularly.
Please use the Full Polish once every few years. Depending on the condition such as scratches, it will return to shine like a new one.